This past weekend's fun, and the next project. I've been dyeing 5 km of 8/2 cotton for some teatowels for
the great tea-towel exchange
. I decided to dye these green and sand as a kind of sample for a scarf I'm making for a friend, and I was so happy with the way the colours worked that I decided to dye the silk for her on the spot as well.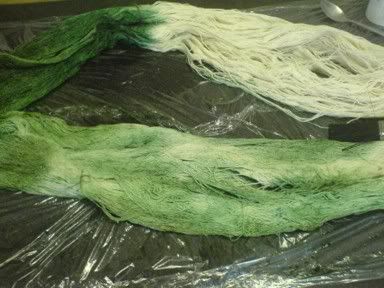 So then I dyed a cone of 30/2 silk in three varying shades of avocado green and four silk caps as well: two in the greens, and two in two varying shades of sandy yellow/brown to spin up as a weft. I seem to only have photos of the greens, but here they are as a taster: cotton on the left, silk on the right: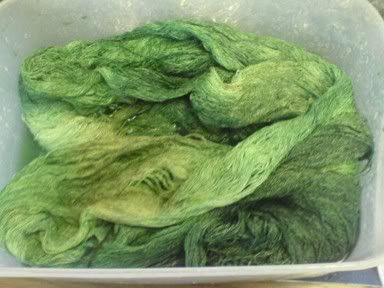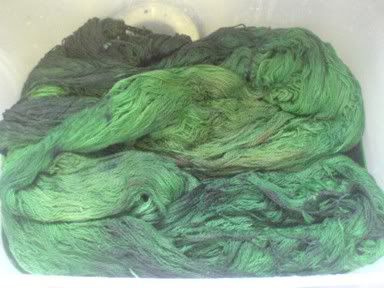 Interestingly, the cotton didn't take up the dye anywhere near as much as I thought it would. I was, however, happy with the way the silk played.
My partner asked me the other day to make him a single blanket to take to Antarctica with him. He wants to put it on his bunk as they tend to overheat the base and the duvets they supply are too hot. I want to make it in a Swedish
krokbragd
, in varying shades of blue and cream, with flashes of red. I'm going to have to do that in double-weave to make the blanket the width it needs to be (66 inches, and I have a 40" loom). This means I'm changing my mind on the fly about the draft I use for the tea-towels, as they cleary need to become a sample for both the blanket and the scarf!
Krokbragd, here I come...