It's bad of me to post this, as I still haven't documented the five metres of tea towel fabric I wove while clearing off the old loom yet, but this is the first project I've made on the new loom, and I'm pleased to report that it's working and balanced. There's also a post about building and balancing a countermarche loom floating around in my head, which needs to be posted at some stage.
As part of seeing whether I can make this hobby defray its expenses, I decided to hand-paint several silk caps, with the idea of making individual scarves for sale. Each silk cap, when dyed and spun finely, yields enough silk thread for one scarf. I had four silk caps, so I painted each a different colour:

The first to be spun was the green, yellow and brown silk cap, furthest from the camera in this photo. I had an apple-green and white 10/1 Shantung silk noil yarn that seemed ideal to try rather than rayon, which would of course give a pure silk scarf and add that bit of extra luxury. I wound a 7.5-inch-wide warp at 24 epi and started weaving the spun silk cap into it. I chose a simple plain weave, so the weave didn't distract from the pattern. In addition to this, of course, a plain weave would quickly allow me to spot any problem with the balance of the loom.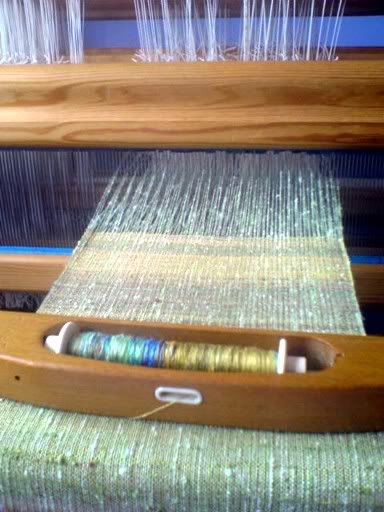 And here's the scarf finished, fringed and washed.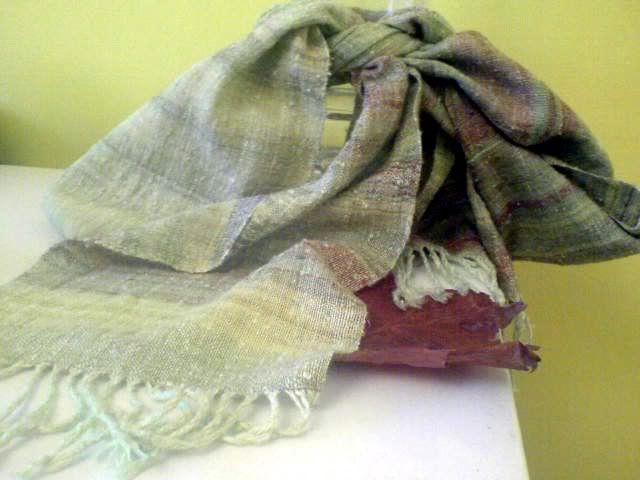 A close-up of the weave structure: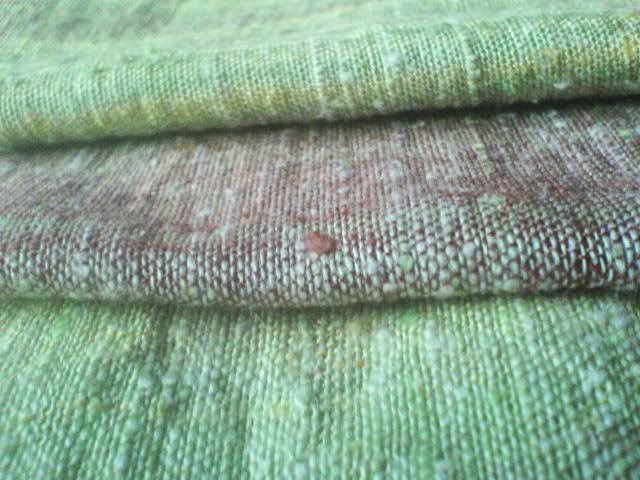 Washed and with shinkage, I have a 6.5"-wide scarf. A 2.5-metre warp gave me a 1.9 metre (76") long scarf, which is a good proportion.

I put this up for sale on
etsy
, today. Let's see how it goes. In the meantime, I'm putting a 10/1 cashmere warp in brick red on the loom, to make a scarf with the red/orange/yellow silk cap. This warp is proving as much of a pain as the silk, because it's so fine and soft it keeps breaking. I'll be saving this cashmere for use in a weft, in the future, I think. One of the big things I've learned from these two projects is that I never want to use 10/1 yarns as a warp, ever again. You can see in the second photo, the way the singles wrap around themselves when not under tension. That and the ease with which they break are a huge disincentive.