This is what my
mediaeval torture chamber
weaving studio used to look like...and what it looks today. What a difference!
I've put the closer bookcase beside the door, so it makes a kind of corridor into the room. This allows me to access that bookcase from both sides (and gives me space for all of my books), and gives the loom a kind of nest in which to live. This was C's suggestion, and it works really well. I've left a couple of spaces free except for an ornament, which allows one to see through to me weaving if walking into the room.
I really need to document more of my planning process becasue I spend so much time thinking about weaving theory, and yet this seems to be a blog of finished items.


Going back through some old photos, I decided to document the teatowels I made before buying my new loom. It was my first attempt at a real yardage, working with 10/2 cotton, as normally I'd play with finer, more exotic fibres.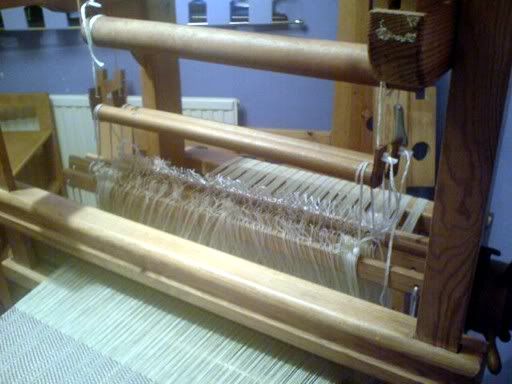 The warp was 5 metres of 10/2 cotton in natural, set to 24 epi. I ran it the with of that loom...about 12-14 inches, from memory. The warp was a chocolate 10/2 cotton, and the draft was a modification I'd made from the background of a classic old American draft which came from an old weaving book which had belonged to a friend's grandmother and gifted to me.

The old loom looked so tiny beside the new loom. I was amazed by hwo quickly you can weave 5 metres of cloth when you're working with 10/2 cottons.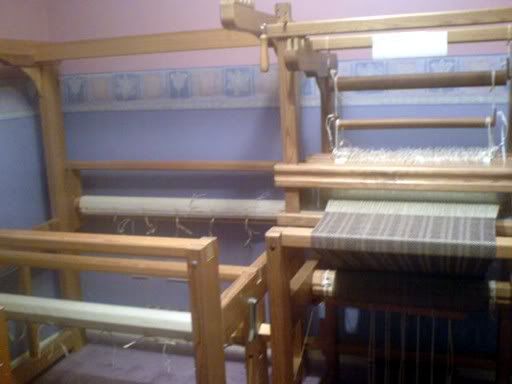 When pulled off the loom, the warp ran the entire length of my hall at the time. I also learned that a previously unsuspected hazard of laying recently woven fabric on the floor is that approximately 15 seconds after it is put there and while you're rummaging around to find your camera, the neighbour's cat will appear out of nowhere, walk from one end to the other of it, and flop on top of it as though it owns the house and it's been there all it's life: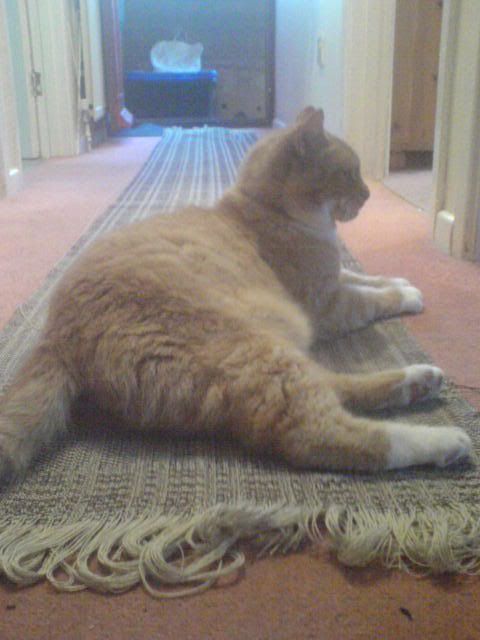 I got four teatowels from the fabric, after finishing, removing ginger hairs and washing. I simply cut the fabric and hemmed the ends. The result is luxuriously thick teatowels which are much superior to those bought in stores. These ones now live in my kitchen but I'm thinking of making some to sell.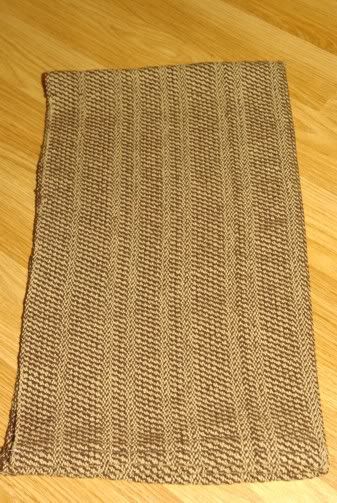 I may never buy a teatowel again.