The whole "having a career and being at work all day" thing means I'm very slow in turning projects over (especially as I'm at work during my most productive time of the day), but it does mean that I have time to muse about what the next project will be as I work on the current one. Typically that means that I always have dozens of projects in mind, some of which will eventually come to fruition.
With the linen cloth almost done, my mind is turning to my next project. This will be a series of four or so scarves in rayon and silk, because I want to play with multiple colours in both warp and weft. The warp will have stripes of varying width of blues and greens, with a touch of yellow and gold, and the weft will be hand-dyed and handspun silk cap, in a variety of shades. I've chosen and laid out the blue and green rayons for the warp (seven shades in all, if I recall correctly) and last weekend, in a fit of inspiration, I pulled out a pile of silk caps and the dye pots and set to.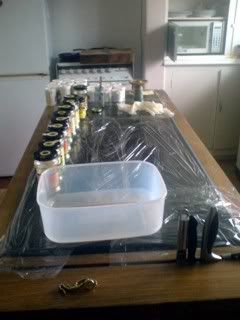 The near colours are for other projects (or eventual sale for others to spin), but the blues and greens on the far end are destined for this project. Some of the scarves will be quite busy, strident and in-your-face with their colouring, others will be much more subtle - I'm planning to play. One of them is suggesting to me that it wants to play with clasped weft, with multicoloured blue-green-yellow silk on the blue side of the warp and just cornflower blue on the green side of the warp. It ought to be fun.
I'll vary the tie-up for each of the scarves, but they'll all be straight threaded on eight shafts, as that's how the linen is set and I want to just tie-on the warp. It's going to be a while before I have the chance to play with this. I have two months of field work coming up, and I'm leaving in just over a week. That ought to be enough time to finish the linen and warp on the new project. Which means it'll be waiting for me when I get back home.