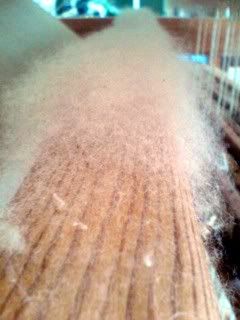 I finished the linen cloth on the weekend. I've wet-finished it but not pressed it yet, so I'm not sure how long it turned out in the end. I finished the entire tin of ironing spray with still a foot or so of warp to go, so I decided to continue until I had a fatal warp breakage. It didn't happen!


The sheer amount of fluff in, under and around the loom dictated a full scrub-down of the torture room. The fluff I collected more than filled the dustpan! I really am amazed that it didn't rise up and turn itself into a pet! Once the fabric was off the loom though, all the care and cleanup was worth it.




This is the yardage, folded in half and draped over a rocking chair. As always, the weave itself (prior to wet finishing) was nothing special:




but wet finshing made the difference. As always, it took it from interleaved threads to a piece of cloth. It's not unlike the cheesecloth shirts I used to wear for their coolness in the 80s. It's probably not surprising that a piece of woven yardage should look like fabric, but it's pleasing me.

It needs to be pressed now, and it's ready for cross-stitching on...even if that will have to wait until I get back from my field work. And the next project (beamed on the loom already) will be considerably more colourful.