I have transferred a lot of spinning and weaving posts I have made over here, so there will be a bit of a backlog.
The first:
When you're falling asleep at the desk, go home a little early and cook pizza - that's what I say. Or at least what I did yesterday. I made pizza dough from scratch and then made caramelised onion and fig pizza and oregano pizza for dinner. They were yum - dellicious enough that I had to restrain myself from overeating because my tastebuds still wanted more after my stomach had had enough. Photos reside on the camera but not on my computer, so recipes and photos will appear soonish (or when I get unlazy enough to do something about it, whichever comes first). A really nice Cabernet Merlot from the Barossa rounded out the meal. After all that pizza, dinner tonight has to be pasta, I think.
After dinner I made a start on my next weaving project. This was supposed to be a twill scarf of soft grey/taupe wool and grey/brown homespun, but I felt that might be a bit boring. So I went searching and found a more interesting twill-based draft on the net.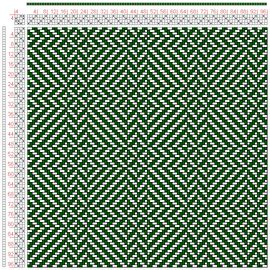 What I love about it is that the pattern changes, depending on how close you are to it - H said it was like a 3D puzzle. The two similar wool colours should make it an interesting, subtle result. I started warping this up last night but I made a fundamental tactical error in transferring the warp from the warping frame to the loom which resulted in my spending quite some time eliminating knots from the warp and actually getting the warp on the frame. Not a fatal error, but one that took a while to clean up. I've learned my lesson and won't make that mistake again. The delay meant I only got as far as winding the warp on the frame and through the reed before bedtime. I'll hook this up to the shafts in the correct configuration and start weaving it tonight. I'm excited.