First, the spinning:

This is my cosy little spinning corner, in front of the TV: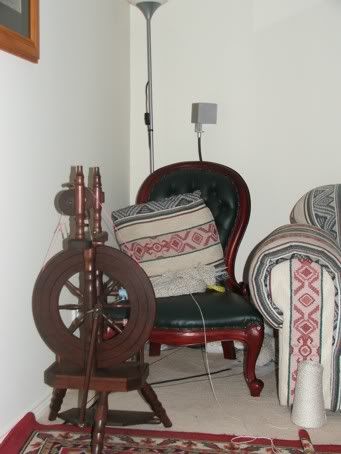 The mess on the chair is knitting. I'm trying (without a pattern) to replicate this cardigan using a thick, soft cotton on 15mm needles: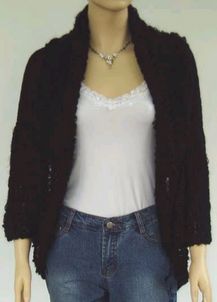 It's almost done; I should be able to block it, sew it and hopefully dye it black this weekend. My latest spinning project has been to spin some roan alpaca. That resulted in my spinning corner gathering enough dirt and grass seeds to resemble a field! But it's done now, and I have in excess of 500 m of lace-weight alpaca. I don't know what this is going to be yet. I might let it sit until I've spun some caramel alpaca I have, and see whether they'd make a nice contrasting pair.




I've also been having a lot of fun with dyeing. I recently dyed a couple of hundred metres of homespun in three colours - red, a splash of fuchsia and black. This was to match some Lion Brand wool. The result was a bit darker than I had aimed for, but still quite attractive, especially knitted up: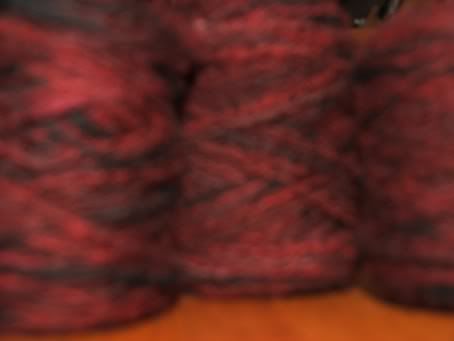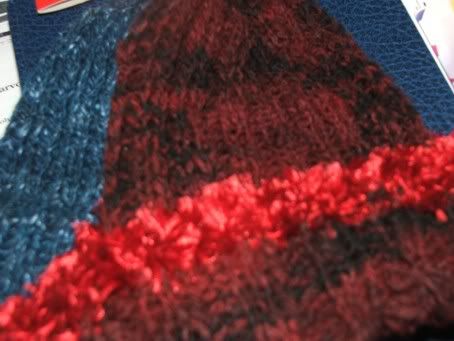 I've also been knitting a couple of beanies. These are his and hers beanies, as gifts. The his is the same navy merino-flax blend I used for H's beanie (without the silk strand, as there wasn't enough left), hers is from the recently dyed red homespun sliver.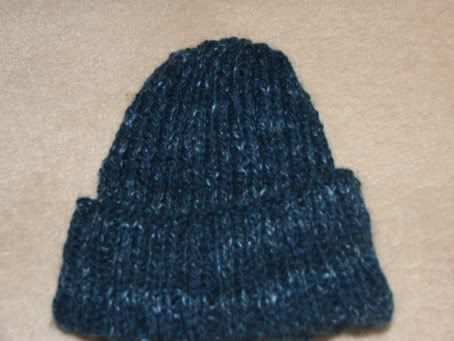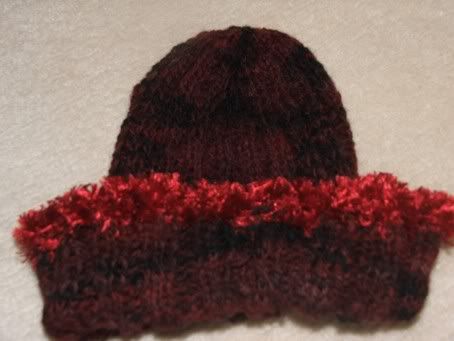 I've also been playing with dyeing cotton for weaving. I tried dyeing some rose wine cotton black, and ended up with a deep purple. That's quite attractive done up as a plaid, but I'm about to change the threading on this project to play with a double-weave.This is the first time I've woven with all 8/2 cotton, and it makes me keen to play with finer stuff. Front and back: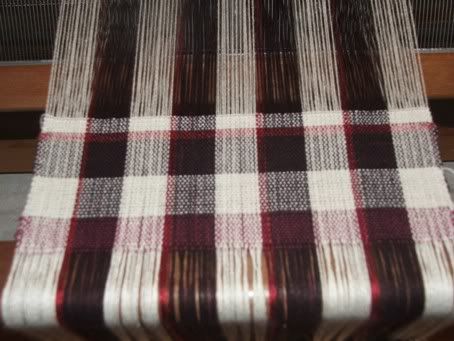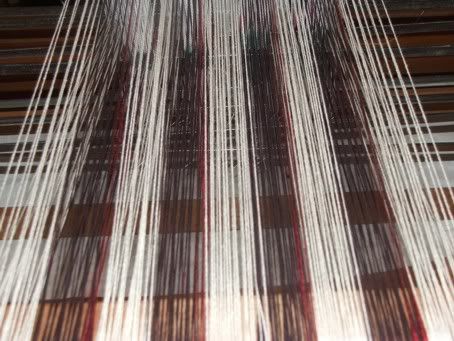 My most recent project to come off the loom is a navy and white scarf sampler, which I made to experiment with open weave. It's also to match a long, navy and white floral skirt which I've long wanted a scarf to go with. It's roughly 14 inches wide and 2 metres long, and has a fine rayon flake thread warp (the blue), with a white 8/2 cotton weft. No homespun was harmed in the making of this project.

The scarf on the floor in a photo which unfortunately doesn't bring out the subtle patterning: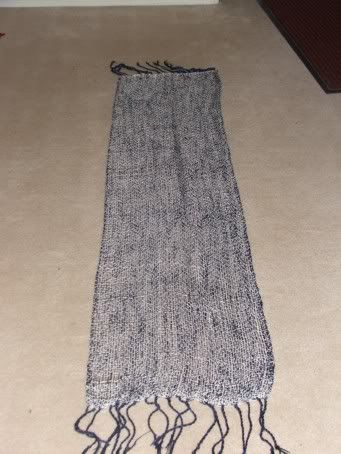 And taken this morning, on me. This isn't the best shot and I didn't bother washing my hair this morning so had to pull the knots out of my hair resulting in it being quite straight and frizzy, but this is what I look like today: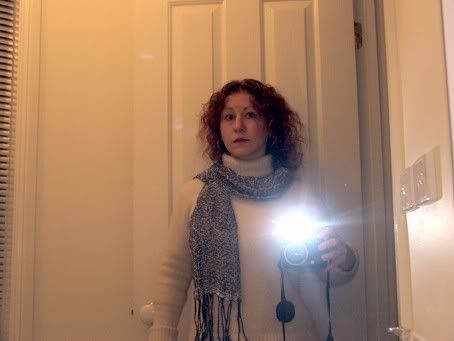 So, the current projects are:

Spinning: I'm working with silk caps again. I'm spinning them very finely and will ply them with 17-micron white merino wool. I don't know what I'm going to make with it, but I'm sure something will come to me.

Knitting: hoping to finish the cardigan this week and that ought to be the last for a while EDIT: This cardigan was decreed a failure.).

Dyeing: Will dye the cardigan black, and will be playing with hand-painting a warp later next month.

Weaving: playing with double-weave in the cotton at the moment. After that I'll be making the soft cotton baby's blankets for my cousin's twins.