Silk thread, spun from two silk caps (about 50g total), then trio-dyed using primrose yellow, a mossy green and a pinky-brown. I used commercial dyes. Silk caps were really fun, I'd absolutely play with them again. I think I'll weave this into a scarf for myself.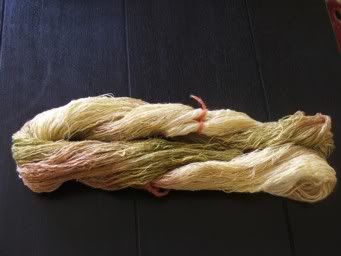 This is what I'm spinning at the moment. It's an 85% merino, 15% flax blend. The merino varies in colour from royal, almost navy, blue, to the occasional bit of turquoise. The flax is both white and black.




Singles, spun on the bobbin. Spun broader than I normally would, this has the most lovely candy-cane effect. This requires a totally different technique to what I am used to - the striped nature of the combed fibre requires thin sections to be pre-drafted to the required thickness, because the flax won't take any stretching of the sliver - it just breaks. I have filled two bobbins now, so I'll ply tonight - once I've found the #$&@ end which I've lost on the second bobbin! H has fallen in love with this, and has asked to have a beanie made from it. If there's enough I may try to make him a matching scarf as well, but it's not a priority because he's not a scarf wearer. I have 200g of this.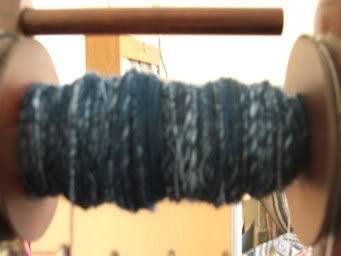 My next weaving project will be a twill scarf for myself, made with a cotton warp and a brown/grey homespun sliver for myself. I'll start this on Thursday. When that's done, I might play with the silk scarf, with a cotton warp.

The next spinning project will be to spin this Suri Alpaca: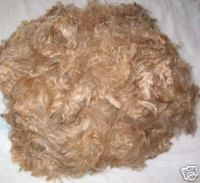 It's the most beautiful colour, and I have 500g of it, so I might get a decent project out of it.